Going MADD
photographer Maddie Morris and up-and-coming model Maddie Roberts quite simply have us... going MADD
photography by Maddie Morris // direction by Sophie Bergquist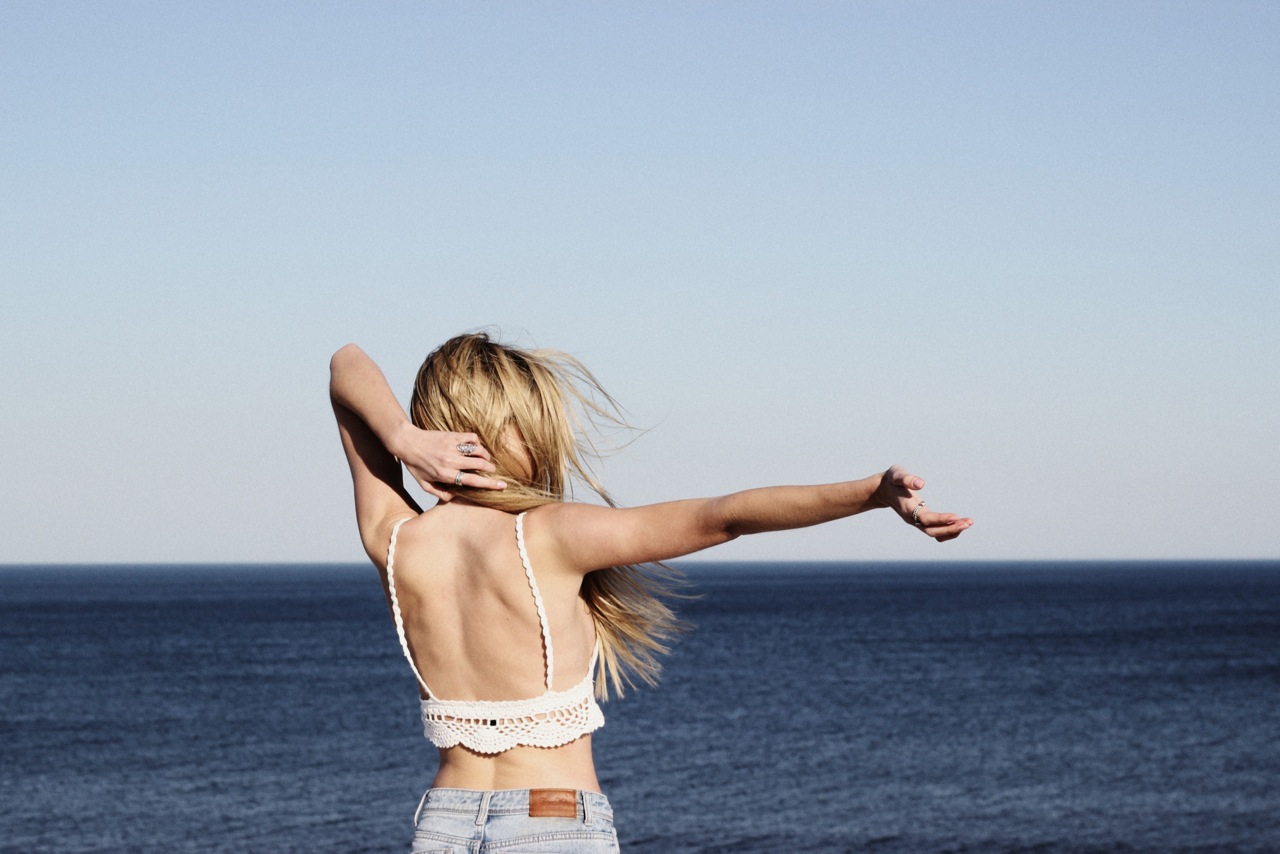 a chat with the model //
What are three adjectives that you feel best describe you?
Understanding, kind, hard working.
What drew you to be interested in the fashion industry?
The image that a show creates. The designer has a image in mind that he/she wants to create. A feeling that they want the audience to perceive and the way they want the clients to feel when they wear their clothes. It's almost like a fantasy. The hair, the makeup and the clothes all create an image that the designer creates and I really want to be apart of that fantasy. I also think its amazing how much you can tell about a person by what their wearing.
Who has contributed most to your perseverance of your dream as a model? Family, friends, or were you mostly self motivated?
My mom always was by my side supporting me no matter what. My dad as well but my mom is more of a momager. My friends have always supported me as well which i think I'm really lucky for that.
Tell me about your recognition by Trump Models this year. What was the application and contest process like?
I was visiting model agency's websites to send my pictures and Trump Models had a banner saying " Model Search". So I applied for the contest sending just a couple snapshots. I really didn't think anything of it. Then one day i checked my email and there it was! I had been selected to come down to Miami in 5 days to take part in the Trump Model Search. After convincing my mom we headed to Miami. I was one of the first few girls there and i was so nervous. I wanted to win so bad but it just seemed so out of reach. I had no idea what they were looking for. There were about 60 of us that been selected from all the applications. We each had five minute interviews with the President of Trump Models and the Scouting Director. Then we had a runway competition. After every girl was finished they brought us all on stage and announced the winner. " Number five, Maddie Roberts!"
What was the most memorable experience from your summer modelling in New York?
Definitely seeing them put my comp card up on the wall with all of the other models. When I had done cold calls I would walk into the agency and see the wall of their models. To see my picture up on the wall was amazing.
Describe how you prepare for a photoshoot. What is going through your mind throughout the experience of being photographed?
I usually research the photographer to see his/her style and make sure my skin hair and nails are ready. I'm usually really calm. I begin to get nervous when i feel like I not giving the photographer what they want. When I see them become frustrated, i get really nervous because i want to give them what they want.
How has your style evolved since becoming more aware of the trends in the fashion industry? How would you describe your style?
I think my style has definitely broadened. I used to be very narrow minded and set rules for myself (which some of them i still have). I dont really know what my style is… I sort of just buy what I like it put it together.
How has the Nauset community and your hometown of Wellfleet shaped your plans for the future? Have you felt supported in your accomplishments by the community?
When I was younger I always used to tell myself that I'm never coming back after I graduate. But these last few years made me realize what a great place it truly is. I definitely will come back.
What is your ultimate dream for your future in modelling? Where would you like to end up?
My ultimate dream is to be able to have modeling be my sole career. I would love to model for a while then develop my brand. Whether its skin care, makeup or clothes.
Is there anything you would like to see change about the fashion and modelling industry? What are your views on the practice of photoshopping and the impact of media on the body images of young girls?
I see both sides. The photographer edits the picture because they are looking for an image. Its not personal. Maybe your nose is too wide and they liked everything about you except your nose. They might change it to fit how they want it to look. But on the other side, it creates a fake image for the girl at home. I think people at home should not compare themselves to people they see in magazines. Maybe even if the picture isn't photoshopped some girl at home is might say " Ugh I want her lips". When in reality, you most likely that you will never have the specific models lips. That is a unique quality about that girl. Everybody is unique and different. We need to accept ourselves and each other for who we are and what we look like.
Any advice for other young girls who share your same dream? What was your formula for success?
Never give up. Even when it seems like theres nothing else you can do to achieve your dream, keep trying. My mom would always tell me to keep trying. Do everything you can. If something isn't working, try something else. Do everything you can to reach your dream. When you give up its no long
A chat with the photographer //
What are three adjectives that you feel best describe you?
Creative, open-minded, artistic
How did you get involved in photography? What sparked your interest?
I started off as a self taught artist, testing many different art mediums but not feeling like I was expressing my emotion enough. I soon moved to photography, finding it easier to express my feeling through the models and settings of my photos. By doing this I try to send a powerful message each time.
Tell me a little bit about your recent successes, what is it like to be recognized by National Geographic?
Recently I have been noticed by many colleges and local people. Being recognized by National Geographic is a huge step for me. Not only will this take me further in doing what I love but I feel like it shows others that if you set your mind to it, you can achieve the highest goals.
What is the favorite picture that you have taken and why? What is your favorite subject to photograph?
I get this question a lot. I love all my photos individually, each of them telling their own story. If I had to pick just one, I would pick "Naked." In this picture there is a beautiful teenage girl who is set before you with just a makeup label covering her breasts. On this makeup pallet says the word "Naked" which is the brand name from Sephora. The message I have tried to send through this, is that young teenagers in our world today are looked at not by their natural beauty, but by their figure and painted on faces. This bare picture shows just that. It advertises a young girl her makeup done up with nothing but this small shield hiding what little there is left that is not seen already. This is my view of what is expected of girls in today's society. I feel like the girls today look up to the models in magazines and on television and put themselves through hell just to get that one extra follow on Instagram or that extra boost of confidence by being called "sexy" or "attractive" in the comment bar. I find this disturbing that young women today are not looked at for their inner beauty but more for their fake shells. This isn't sexy to me at all. You notice she is not happy in this photo. Maybe because she knows she isn't herself but yet someone who she is told to be. She isn't tiny. She's built. Like girls should be. Not starved just to fit into that size 0 top. That in no way to me is "attractive". No matter what size you are… tall, short, skinny, heavy. You will always and forever be beautiful in your own way, there is no need to think otherwise. Sexy is owning up to your true beauty and embracing it. Attractive to me is being smart and owning it and showing your true colors. That to me is sexy. Not a magazine cover of someone who has been photoshopped to what society calls "perfection." So when looking at this photo I want you to get the message that yes, this girl looks stunning and airbrushed but she is not happy. She is looked at as "sexy" or "attractive" but she doesn't truly feel this way. Because you can't truly be beautiful if you are playing the role in society that is the definition of ugly. To answer your question about my favorite type of photography, I love shooting portraits. As you can tell I like to send messages through other people to try and get my point across and it's a lot of fun working with others.
What message do you try to send through your photos?What do you try to express in your photography?
I try to send a different message with each photo I post. Some talk about self harm, racism, purity, rebirth, sadness, or true inner beauty. All of these messages are relevant to our world today. Many teenagers go through hardships when growing up into this world and it's sad how many people have lost their creativity and originality. Overall I try to make people think when looking at these photos and have them try and figure out my crazy messages!!
What inspires you most? People, places, things?
My biggest inspirations are my experiences. Those I have shared with others and with myself. From heartbreak to true sadness to dark thoughts to a sense of "rebirth" to finding my inner beauty to struggling with day to day acceptance I have put all of these life experiences into a picture book that I will add onto as my life carries on. High school is where it starts. I'm just trying to move with the current but not get lost in it, and break out of the norm by being creative with it.
Have you found the Nauset community and photography department to be supportive of your accomplishments? If applicable, how has Nauset contributed to your photography?
They have been extremely supportive. I wouldn't be where I am today without the lovely Mrs.Campbell, the Art and Photography teacher. I owe it to her for sticking by my side when she first let me into Photography 2 half way through my freshman year. I wasn't meant to be in the class and had no clue what I was doing but she guided me and helped me grow into what I've become today. I can't thank her enough for her support and for her help of trying to get my work out there! She is a wonderful teacher and an even better mentor. I am grateful for her.
How do you hope to incorporate your talent into your future plans? Would you like to make a career out of photography?
My future plans are all over the map. I am currently being watched by SFAI (San Francisco Art Institute) and have been receiving many letters in the mail!! I would love to continue on out of High School with this passion and have it take me as far as I can. Talking with National Geographic employes is in my near future also. I hope they help me and take me far and hopefully many more photos will come from me!! I plan to one day travel the world and capture it's true beauty and all the different people living in it.